Info
Our most popular trips are our three-quarter and full day fishing trips. These trips typically leave early in the early morning and get back after noon on a 6 hour trip and late afternoon on a full day. Half days are 4 hours, three-quarter days are 6 hours and full days are 8 hours.
We can usually offer a variety of fishing trips, mostly fishing the Tampa Bay area. We will fish the beaches at the edge of the Gulf of Mexico, or the back country bays and expansive flats from our fully equipped, custom rigged 16 foot, Mark Scott built, Silver King flats boat. As tarpon season approaches, we will extend our range to the award winning, white, sandy beaches of St. Petersburg south to Anna Maria, Bradenton, and Sarasota to sight cast to giant tarpon, known as the "Silver King".
Included In Your Charter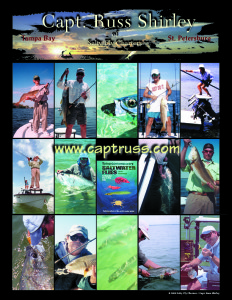 Boat and fuel
USCG licensed & insured, professional captain
All Tackle including fly rods, spinning rods, leaders, flies
Fishing Licenses
Cooler and ice, bottled waters
Digital camera
Instruction (if needed)
Non-yelling, enthusiastic guide
What You Need To Bring
Quality, Polarized Sunglasses
Hat
Camera
Deck Shoes or hospital socks (fiberglass friendly)
Sun Screen Lotion (NO SPRAY PLEASE)
Rain Gear
Drinks, snacks and/or lunch
Good Attitude
How To Book A Trip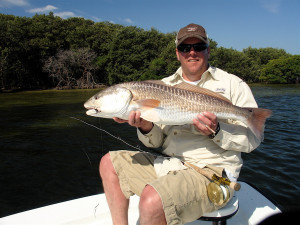 We furnish the boat for one or two people. One or two people per boat is the best way to truly enjoy your fishing experience. If you have a larger party, we will call on additional licensed guides and boats to meet your needs. Call and provide the information concerning your dates and the number in your group, and we'll handle the rest! Call 727-459-3896 or email us at Russ@captruss.com. Check out our Accommodations page.
RATES *
August 1 through April 30
1/2 Day (4 Hours) $400
3/4 Day (6 Hours) $500
Full Day (8 Hours) $600
May 1 through July 31 – Tarpon Fishing Season

1/2 Day (4 Hours) ** $550
3/4 Day (6 Hours) $600
Full Day (8 Hours) $650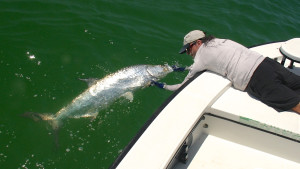 Gratuities are customary.
* Rates are subject to change.
** Ask for availability.
Above rates include 2 anglers for 1 boat.
Please add $50 for third passenger. Possible exception for children under 10.
Point of pick-up and/or departure to be determined by captain and customer.
DEPOSIT-PAYMENTS-REFUNDS
Required deposit is:
August through April: $100 per each day of fishing.
May 1 through July 31: 50% of daily rate per each day of fishing.
Please note: If multiple boats are booked this is per day and per boat.
Please remit deposit check, money order or travelers check to:
Capt. Russ Shirley
7111 3rd Ave. S
St. Petersburg, FL 33707-1227
For PayPal use: my email address: russ@captruss.com (please choose Send As Friend).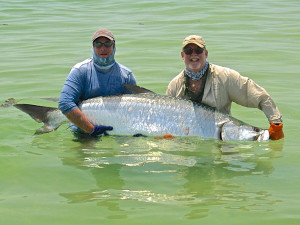 Bookings are held temporarily and only confirmed once a deposit is received. Once the deposit requirements are met, the dates are reserved and will not be changed with regards to other clients needs. If a deposit is not sent and received in time, the dates you are requesting may be booked by other customers with deposits.
Please be advised that the deposit (in full) is non-refundable unless notice is given with more than thirty (30) days notice. We will try to accommodate any changes to a booking prior to (30 days) if possible, but changes cannot be guaranteed due to possible scheduling conflicts. Due to the nature of our business we ask that on the day/s of fishing, a daily balance payment be paid by cash and/or American Express Travel Checks in U.S. Currency.*
Deposit refunds due to bad weather or otherwise are at the discretion of the captain. Please note that we will not fish if the trip may be dangerous or unsafe and, if this is the condition the deposit is normally refunded.
Upon receiving a deposit you will receive an email confirmation. Also, you will receive a map with directions, links and address to our meeting site & ramp. Please remember to bring your email directions and map when traveling!
Please find the attached map showing the different ramp sites used at different times of the season.
We will usually use my main ramp site #3 ( Gulfport Municipal Marina ). If fishing the southern end of the Tampa Bay area, see site #5 ( Riverside Park Boat Ramp )
If fishing the northern end of Tampa bay, please see site #4 ( Safety Harbor Marina Ramp ).
Looking forward to hearing from you soon and thanks for allowing me the chance to earn your business!