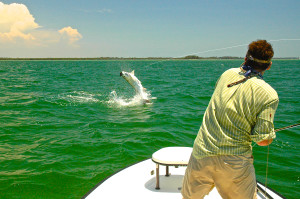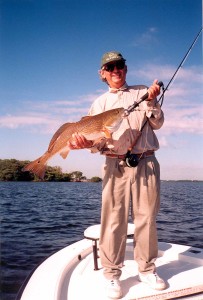 Fly Fishing Tampa Bay, St. Petersburg, Clearwater, Anna Maria, Bradenton. Some of Florida's best saltwater fly fishing and some of the best in the world!
Florida has long been known to be the fishing capital of the world, and yes that means saltwater fly fishing too, in fact it is the birthplace of saltwater fly fishing. Since we have so many habitats to fish, from extensive grass flats to sandy beaches, clear water shoals to deep passes, mangrove shorelines to docks and canal systems, we can usually find different species on a day's charter to keep things interesting while working with our ever-changing conditions and environments.
If you'd like to bring your own equipment, please check with me first so we that I can make sure it's ready for saltwater fly fishing. Please note it's a rough and tough environment and the tackle needs to be salt-friendly, corrosion and rust will become your best friends real fast in our neighborhood. Of course, you can always use my gear which has been chosen for it's quality and toughness. I use gear and tackle from some the best companies in our business including Silver King Boat Co., G-Loomis, Temple Fork Outfitters, Tibor, 3M – Scientific Angler, Simms, Yamaha, Quantum, Garmin, PowerPro, Ohero, Lee Fisher Nets and Smith Optics Sunglasses.
When visiting our area of Florida's west coast, most anglers will be in one of these cities surrounding Tampa Bay. Please note the fishing areas I use below.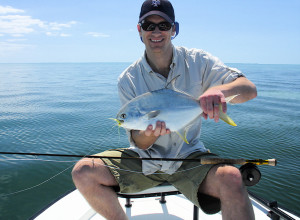 Fly Fishing St. Pete
Since this is my backyard and just minutes to the water, I spend most of our time in these waters, including Fort De Soto, Gulfport, Boca Ciega Bay, Mullet Key, Passagrille and St. Pete Beach. With everything from lush grass flats to classic white sand shoals for our Tarpon fly fishing, these waters are the mouth of the largest estuary in Florida, Tampa Bay and provide the most species possibly available.
Fly Fishing Tampa
Surrounding and including the eastern side of Tampa Bay, fly fishing these waters depends on many conditions, mainly water clarity and wind direction and strength. Many fly fishermen really like some of the sandy flats as it's like fishing bonefish in the Florida Keys. Most of the time I fish this area during the fall, winter and spring, with our main targets being redfish and snook.